---
Explore our expert
Pseudo 3D Seismic
 Generating 3D Seismic Cube from Sparsely Distributed 2D Seismic Lines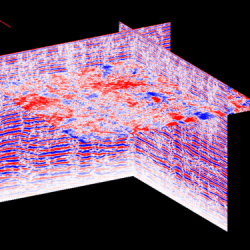 Data input:
2D Seismic Lines (Stack-SEGY)
Horizons Interpretation
General Process:
2D Data conditioning: Amplitude and Frequency Balancing, Miss-Tie Alignment,  Enhancement, Sampling rate equalization, etc.  
Generating target 3D Grids: inline-xline numbers, inline-xline increments, azimuth, orientation.
Perform Amplitude prediction via Geostatistical  Interpolation guided by horizon
Demigration-Remigration 
Finetuning 
Data Output:
3D Seismic Cube in SEGY Format
Quality Control:
3D Seismic Cube-2D Seismic Line Tie
Time Slice Integrity
Sparsely distributed 2D Seismic Lines are used in the example. Variation of geological settings are shown in the seismic section (Data: F3 Netherlands-Open Data) 
Result of Pseudo3D Seismic Cube generated from corresponding seismic data shown in the previous slide
Pseudo3D Seismic Cube and 2D Seismic Lines tie used as quality control. Note that main events are nicely correlated.