---
Explore our expert
Integration of Borehole Image and Petrophysical Analysis
 Petrophysical analysis and borehole image to support field & basin studies and oil & gas reservoir simulations.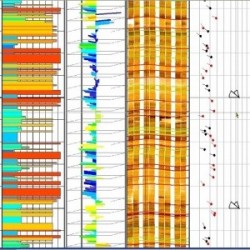 Petrophysics as one of important discipline in oil industry should be placed proportionally together with the other disciplines (Geology, Geophysics, Reservoir Engineering, etc). One of the main purpose of drilling the well in the particular area is to gain the rock information as much as we can. These well information are mainly gained by the logging tools that possibly run by wireline or LWD (Logging While Drilling) technologies.

We provide integrated petrophysical analysis and borehole image for reservoir description (reservoir characterization) to support field & basin studies, and productivity analysis from logs and cores of the study area in Indonesia to support oil and gas reservoir simulations. These analysis requires accurate calibration of shale value, porosity, mineralogy, saturation, permeability, and natural fracture intensity, controled by sample, core, geochemistry, XRD, test, and production history data.

Please contact our marketing at marketing@geodwipa.com for detail inquiries, proposal, brochure and pricing.