---
Explore our expert
Confident DHI (Direct Hydrocarbon Indicator) With Fluid Substitution Model
 Confident DHI with method to simulate seismic response when different type of fluids was contained in our reservoir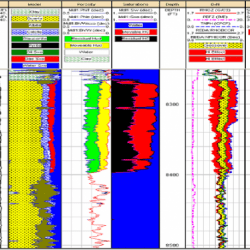 Direct Hydrocarbon Indicator is a popular seismic response which was related to hydrocarbon in reservoir. Amplitude brightening is the most eye catching by seismic interpreter. The other indication are dimming, AVO, and phase change also indicate hydrocarbon in reservoir. These characteristics are depending on type of reservoir, type of cap rock, base reservoir, thickness and fluid contain.  The seismic amplitudes were not only indicating hydrocarbon but also possible pitfall which can be miss-interpret by seismic interpreter.
Fluid substitution modelling is a method to simulate seismic response when different type of fluids was contained in our expected reservoir. It can be single model or several models depend on possible variation of reservoir rock, cap rock and lithology beneath reservoir.
Our geophysicist can provide you analysis base on fluid substitution model and explain behavior of seismic response in field or target prospect. It will increase possibility of success by consider value of DHI in the prospect.
This model can increase confident to explore more trap variation by considering amplitude or explore more amplitude driven prospect. We try to bring more value on client data by extracting more value for exploration, development and production in Indonesia.

Please contact our marketing at marketing@geodwipa.com for detail inquiries, proposal, brochure and pricing.