---
Explore our Course
(SUMATERA) Regional Geology of Sumatra Fault System Field Trip, Padang - Bukit Tinggi, West Sumatra
When we talk about the geology of Sumatra island, Indonesia, one that can not be separated is the Bukit Barisan and the Sumatran Fault. And the most ideal place to learn the relationship is Bukit Tinggi, an exotic city in West Sumatra. This field trip invites the participants to visit key locations to learn how the Bukit Barisan Mountains that buffer Sumatra Island are formed, and how the role of the Sumatran Fault shift continues to thrill the island. Participants will be also guided to local tourism destinations in Padang and Bukit Tinggi.
Please contact our marketing at marketing@geodwipa.com for detail inquiries, proposal and brochure.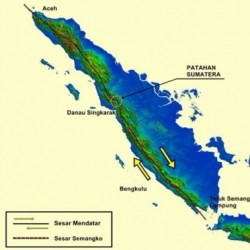 | | | |
| --- | --- | --- |
| Day | Main Field Trip Activity | Geotourism |
| 1 | Arrival in Padang and technical briefing | Air Manis beach and Malin Kundang site tour |
| 2 | Discussion and observation about Gunung Talang volcanism and tectonic Singkarak lake formation in Solok | Bukit Kili hot spring and Singkarak lake tour |
| 3 | Discussion and observation about Ombilin basin formation in Sawah Lunto | Baso Pagaruyung palace tour |
| 4 | Discussion and observation about Ngarai Sianok valley and volcanic Lake Maninjau formation | Ngarai Sianok and lake Maninjau tour |
| 5 | Departure from Padang | Souvenir shopping tour |
Regional Geology of Sumatra Fault System Field Trip is set for Geologist, Geophysicist, Petrophysic, Engineers who are interested to know the regional geology of Sumatra Fault System.
Field trip leader is academician with PhD in Geology from Departemen Teknik Geologi Universitas Gadjah Mada
Every month from January - December based on the minimum participants quota (minimum 15 participants). The training will be delivered in field trip. The accommodation during the course are included: free B/L/D during the course, field trip gears, insurance, geotourism and city tour.