---
Explore our Course
(SUMATERA) Petroleum Geology of South Sumatra Basin Field Trip, Palembang - Pagar Alam, South Sumatra
The South Sumatra basin is one of the major sedimenter basin of oil and gas producers in Sumatra Island, Indonesia, with mining history spanning until 1895. At its western edge, volcano activity sometimes takes place very catastrophically, leaving traces of giant eruption. This fieldtrip invites the participants to visit key locations to learn the rocks of the basin that are key elements of the growing oil and gas system and to see how a very powerful process of volcanism has occurred in the past. Partcipants will be also guided to local tourism destinations in Palembang and Pagar Alam.
Please contact our marketing at marketing@geodwipa.com for detail inquiries, proposal and brochure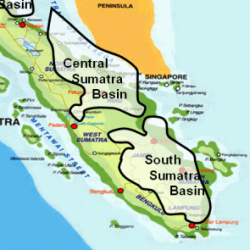 | | | |
| --- | --- | --- |
| Day | Main Field Trip Activity | Geotourism |
| 1 | Arrival in Palembang and technical briefing | Kuto Besak fort and Ampera bridge tour |
| 2 | Observation and discussion about Air Benakat formation and Muara Enim Anticlinorium in Muara Enim | Gunung Jempol and Lematang river tour |
| 3 | Observation and discussion about Lahat formation in Gumay mountain | Pendopo culinary tour |
| 4 | Observation and discussion about Sumatra fault and Dempo volcanism formation | Pagar Alam tea plantation and Dempo megalith site tour |
| 5 | Departure from Palembang | Souvenir shopping tour |
Petroleum Geology of South Sumatra Basin Field Trip is set for Geologist, Geophysicist, Petrophysic, Engineers who are interested to know the regional geology of South Sumatra Basin.
Field trip leader is academician with PhD in Geology from Departemen Teknik Geologi Universitas Gadjah Mada
Every month from January - December based on the minimum participants quota (minimum 15 participants). The training will be delivered in field trip. The accommodation during the course are included: free B/L/D during the course, field trip gears, insurance, geotourism and city tour